Music Connections Meets…Kwame Daniels
"We're back, moving through all that good stuff that sits between the Boogie and the Latin, Disco and Jazz, Afrobeat and Funk, all with a techie soulful twist."
And all on BBC Radio Ulster.
That was the introduction by Kwame Daniels to the second episode of his new radio show, Inna Rhythm, going out on Sunday afternoons at 4pm over a six-week period. Music Connections sat down with Kwame to get to know this new voice on our airwaves and to delve into the origins – and the future – of the show.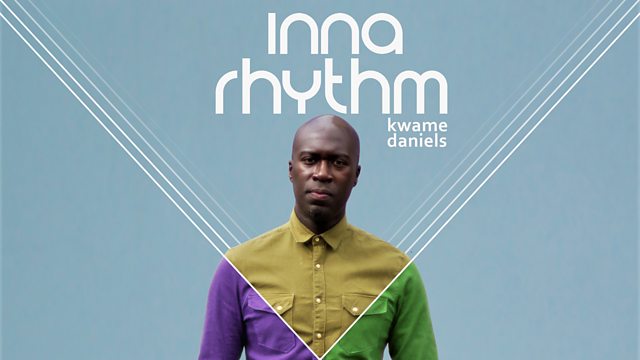 Kwame, where did your journey with music begin?
I grew up around music, it was always in the house. My dad worked in the Philips' record pressing factory when I was younger and was always bringing home gems for us to listen to – think Curtis Mayfield, James Brown white labels. My mum was more into Nat King Cole; she had a love of highlife too – Ghanaian dance music, highly percussive, brass driven stuff. I have five brothers and sisters, all with different tastes in music from pop to soul. My school friends and I were mad about music and dancing – we were listening to jazz and funk, and we got into breaking and popping.
At what point did that journey bring you to Northern Ireland (NI)?
I moved from London to Derry in 1997 to study sound – courses were so expensive in London but, in Derry, I could study sound engineering and production for free, which I did in the Nerve Centre. I was able to learn and appreciate how music and sounds were made – how to mic a drum kit, a bass guitar, a vocal. I figured out how sound works, especially in live settings. That was the start of it all for me over here. I went on to work with sound on TV and film sets, and spent time in a recording studio called Blastfurnace, whilst also working with bands on stage and DJing. Anything that involved sonics and music – an appreciation of sound – I was into it.
Do you think NI has been a good place to develop your career in music?
Yes! It was a blank canvas in terms of the scene. The music I was playing as a DJ – soul, gospel, jazz – had never been put together before in the same room, in the same place, and by the same person. From a learning point of view, there was also the Nerve Centre which championed the creative industries at the time (and still does) who said, "we have the mechanisms to support you and help you gain that knowledge". To study sound engineering and survive in London just wasn't feasible – coming to NI was a great move.
Some people may know you for your work with Bounce Culture. Tell us more about that.
Bounce Culture started off as a club night and residency called Bounce at Sandinos in Derry. It ran for eight years and it was great. The owner, Joe, and manager, Ann, trusted me to curate the night which was unreal. I was able to invite guest DJs and bands from all over and I learnt about the music promotions side of the business. At the same time, I was delivering DJ workshops and engaging in community outreach – I also got involved in curriculum design to allow young people to study DJing alongside other instruments. It was a journey that involved club nights, event production, podcasts and more – and it created Bounce Culture, a shop window for everything I was working on.
So how did you go from Bounce Culture to securing your own radio show?
Through Bounce Culture, I got to work on a project called Mix the City with Belfast City Council and that's where I met Hannah Peel (Mercury-nominated Hannah Peel, no less). It was Hannah who suggested I think about moving into radio. At first, I didn't think anything of it, but as time went on, I got together with the BBC's Marie-Louise Muir (my producer) to explore the idea and, just over one year later, a pitch to BBC commissioners and a lot of hard work, we're live, following on from previous guest shows presented by Gary Lightbody, Peter Cunnah and Neil Hannon.
For anyone who hasn't yet tuned into the show, what can they expect from Inna Rhythm?
The show is all about music that engages with emotions and enables self-expression. There are influences of Jazz, Soul, Gospel, Funk, Hip Hop, Afrobeat, Rare Groove and Brazilian, all with a techie soulful twist. It's a mashing of styles, an amalgamation of sounds that come together from around the world in the one spot. Nothing is in a box.
Being unique to the BBC, would you say there is an aspiration for the show to educate as well as entertain?
Yes, definitely. I don't want to be preachy about music but I like to present things so that people can make up their own minds. I don't take for granted that people will know who I'm talking about, so I'll always try to explain things. I never want to come across as patronising, but I do want to bring new audiences in. This is a fairly new way and style of presenting this music – I put my workshop facilitator hat on. In reality, all I want to be is in the corner of a bar or an underground club with one light and a huge sound system, that's my default. But this is the polar opposite, where I aim to explain the music, walk people through it and just give them the context – so there is an educational side to it and hope that people will go on to explore the music further themselves.
Inna Rhythm isn't exactly your typical BBC Radio Ulster show. Are we right in thinking that this is a one-of-a-kind show for the station?
Yes, and it's a great opportunity. Having all of this music in the one place on this station is significant; and having a 6ft 3inch Black man from London presenting this music in the one place on Radio Ulster is significant. I can't get away from that. The general feedback so far from within the station has been brilliant – there's a real belief that the show is needed. So yes, I think it's definitely the first show of its kind – period. I don't know anyone else pulling together this type of music in its own setting.
There must be a lot of preparation that goes into each show. How do you decide what to play in a single hour with a head so clearly bursting with music?
From the very beginning, Marie-Louise Muir said "you're the expert and I will be led by you." So I break it down into categories. I want to share and present artists that people will know; but I want to share music from those artists that people may not have heard. So I'll play rare tracks from Chaka Khan or Luther Vandross. I want to play different remixes of tunes you know – in the second show, I played a remix of Radiohead by a deep house DJ whose origins are from Nigeria. I'll do a total flip of a pop or rock classic in a genre that I love. I also do a segment called Tune In Two, where a track starts off in one direction and ends up in another – for example, it might start out a deep house and switch up to jazz or be a laid back soul record that ends up in broken beat with influences of African music and techno. I set myself a marker for each show where I deliver a representation of each of these areas. And then I throw in some tunes that mean something to me personally as well as brand new music, because I want people to hear stuff that's only been released last month. That's how the show is put together.
This is a six-week opportunity. Have you got ambitions for Inna Rhythm beyond this?
I am so focused on making these six weeks the best that they can be; it's quite an intense process. But I love it and I feel it's got legs. A longer time slot could really take people places – in a single hour, you're limited to playing 11 or 12 tracks but in a couple of hours you could take people on a deeper journey. There's also potential on the live front, especially for bringing together local bands with international artists. There's so much we could do – and it's a really exciting time.
Inna Rhythm airs every Sunday at 4pm on BBC Radio Ulster. You can listen back to shows you've missed and view the full track listings on BBC Sounds.