#LetTheMusicMove: campaign launches urging Government to reduce the costs & red tape for artists touring Europe
Five years to the day since the referendum vote on Brexit, today sees the launch of a new artist-led music industry campaign, #LetTheMusicMove, pushing for a reduction in the costs and red tape faced by UK musicians and UK music businesses when full-scale live touring of Europe resumes. 
The campaign starts with the support of more than 200 artists including Wolf Alice, Annie Lennox, Biffy Clyro, IDLES, Poppy Ajudha, Radiohead, Anna Calvi, Skunk Anansie, Everything Everything, Graeme Park, Bob Geldof, Editors, Mark Knopfler, Two Door Cinema Club, Mr Scruff, Kelli-Leigh, Ward Thomas, New Order, Rick Astley, Ghostpoet, Midge Ure, Glasvegas, Anna Meredith, Get Cape. Wear Cape. Fly, Nina Nesbitt, Keane, Erland Cooper, The Chemical Brothers, Matthew Herbert, Portishead's Beth Gibbons, Blur's David Rowntree, Gilles Peterson, Jack Garratt, Dave Okumu, Bill Ryder-Jones, Peggy Seeger, Pink Floyd's Nick Mason and many, many others.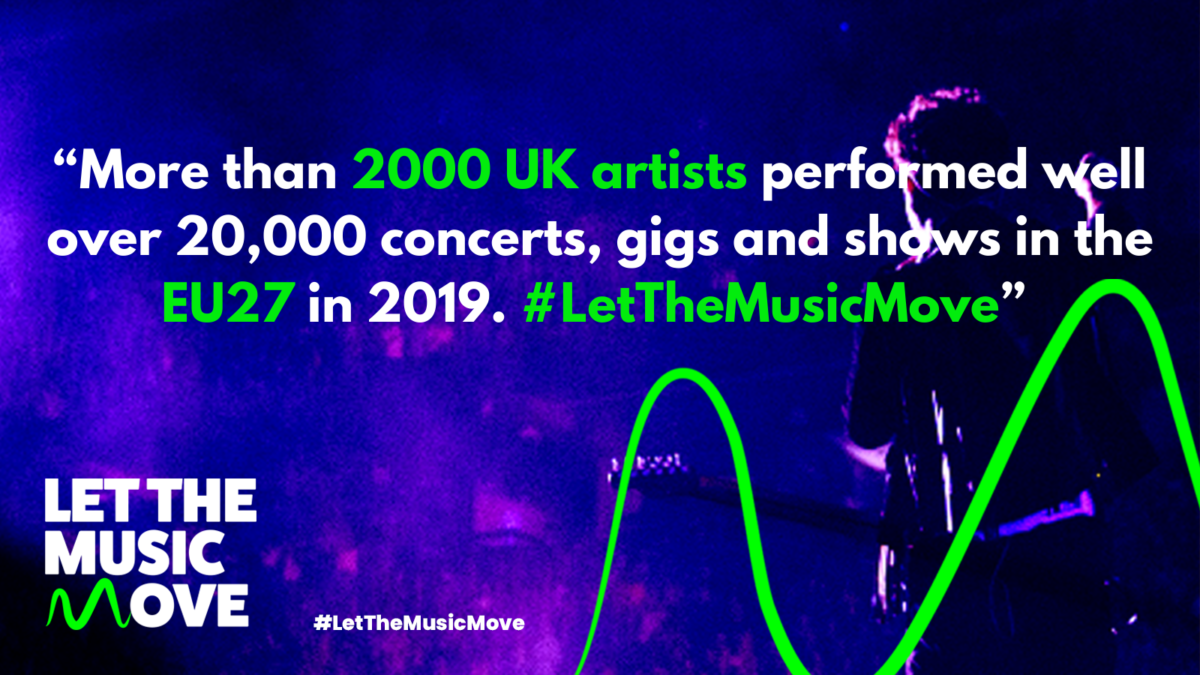 #LetTheMusicMove is urging the Government to act now to mitigate the slew of Brexit-related expenditure, restrictions and bureaucracy which is making EU touring unviable and threatens the future success of British music. More information can be found on the campaign website here, with artists being encouraged to sign up and show their support.  
Currently, the UK is the second biggest exporter of music in the world, and Europe is our most important overseas market. In 2019, UK artists played almost four times as many shows across the EU than they did in North America*. These gigs and festival appearances sustained an estimated 33,000 British jobs. Their successful return is absolutely vital, not only for the performers and musicians involved, but for an entire ecosystem of live music industry workers and businesses. However, despite the Prime Minister's promises to "fix" the multitude of problems resulting from the end to visa-free touring** significant uncertainties and barriers remain.
For instance, under new post-Brexit rules:
UK touring vehicles will be limited to only three stops in Europe before having to return home
UK musicians will require an onerous goods passport (a "carnet") in order to tour Europe, including a bond for their instruments and equipment
Those planning to perform in Spain, the UK's second biggest touring market, face an unprecedented burden of work permits, paperwork and travel costs making many shows and festival performances unviable.
Alongside the ongoing impacts of COVID-19, such additional costs and red tape will put future European touring in jeopardy – particularly for upcoming artists looking to build and expand their audiences. There is now a growing sense of urgency for the Government to act.
#LetTheMusicMove launches the same day that 50 UK music artists sent a letter to the Prime Minister requesting that the UK Government urgently engage with the EU and its member states to ease the burden of seeking permissions each time artists and their teams wish to perform in EU countries.
Earlier this month, Elton John wrote to MPs on the DCMS Committee outlining how post-Brexit restrictions on touring the EU were a "looming catastrophe" for the UK's music sector. Meanwhile, last week, new consumer research from Public First indicated that the UK public are not doing enough to address these issues. This follows a petition by freelancer Tim Brennan, as part of the Carry on Touring campaign, calling for a Europe-wide, visa-free work permit for touring professionals and artists that attracted more than 286,000 signatures. 
Backed by a growing cross-section of the UK music industry, including the umbrella bodies LIVE and UK Music, #LetTheMusicMove is now calling on Government to deliver four immediate actions to help avoid an impending crisis:
An urgent Transitional Support Package to cover new and additional costs for touring artists and crews in the EU
Measures to overcome restrictive "cabotage" rules on UK vehicles touring Europe
A viable long-term plan for UK artists and crew to continue working in all EU-27 countries, without costly permits and bureaucracy
To ensure European artists have reciprocal freedoms and access to perform at UK venues and festivals
Following an earlier postponement, Lord Frost, who is responsible for securing post-Brexit EU travel for creative workers, is anticipated to be appearing soon at a rescheduled evidence session on EU visa arrangements at the DCMS Select Committee. 
EU touring and the need to get the right processes in place for simple and economical access to Europe is crucial at this time more than ever. It is the lifeblood of bands and artists, not just financially, but in order to expand their fanbase and deliver their art to a wider audience. EU touring also opens up the windows of touring on a global scale with surrounding countries and continents, with the knock-on effect of the impact that bands and artists have that tour there. We need action, we need support, we need access, and we need it now!

Skunk Anansie
It's essential that bands, artists, musicians and DJs can travel Europe at every level of their career. Europe is part of the geographic working space. To make it financially and logistically unrealistic to do shows and festivals will be halting the livelihoods and careers of generations of musicians.

Simone Marie Butler (Primal Scream)
Blur played our first gig outside the UK in Rotterdam in February 1991. We just jumped on a ferry with no restrictions for us or our gear. That August we were back in the Netherlands, followed by dates in Germany, France and then on into a full European tour.  If we were starting out today trying to do the same, there would be a vast range of bureaucracy and costs, with different regimes in every country. We simply wouldn't be able to afford it. The UK Government has to take this issue seriously and support touring artists. The future of British music is at stake.

David Rowntree, Blur