The Darkling Air is Rachel McCarthy and Michael Keeney. They are based in Bangor, County Down on the southern edge of Belfast Lough. The music involves voice, piano and guitar and is often wreathed in string arrangements featuring Arco String Quartet.  Their work is a channel for melody, song, classical and traditional forms plus a questing, modern aspect.  
On the 8th November 2019 the band released 'Ancestor,' their second album. It was a significant development on the 2016 debut, 'Untamed and Beloved'. As before Rachel's voice is a singular, resonant force as she explores memory, melancholia and bliss. The songs alternate between quiet, intimate moments and searing emotion. "We're trying to maintain the spirit of adventure," says Michael. "That means something to us."
'Ancestor' brought a wider appreciation for their work and accolades including 'Album of the Week' on RTE Lyric FM and support on RTE Radio 1, Arena, KCLR, BBC Radio Ulster, Hotpress, PlayIrish and others plus nominations for both the Choice Music Prize and finalists in the Northern Ireland Music Prize. The band soundtracked the emotive TV AD for the RTE Toy Show 2020 with their track 'Globe Lights' which features on the Ancestor LP.
Post lockdown(s), the band have escaped the towns and cities in favour of rural cottages, usually by the sea to work on album number three. More on that later this year…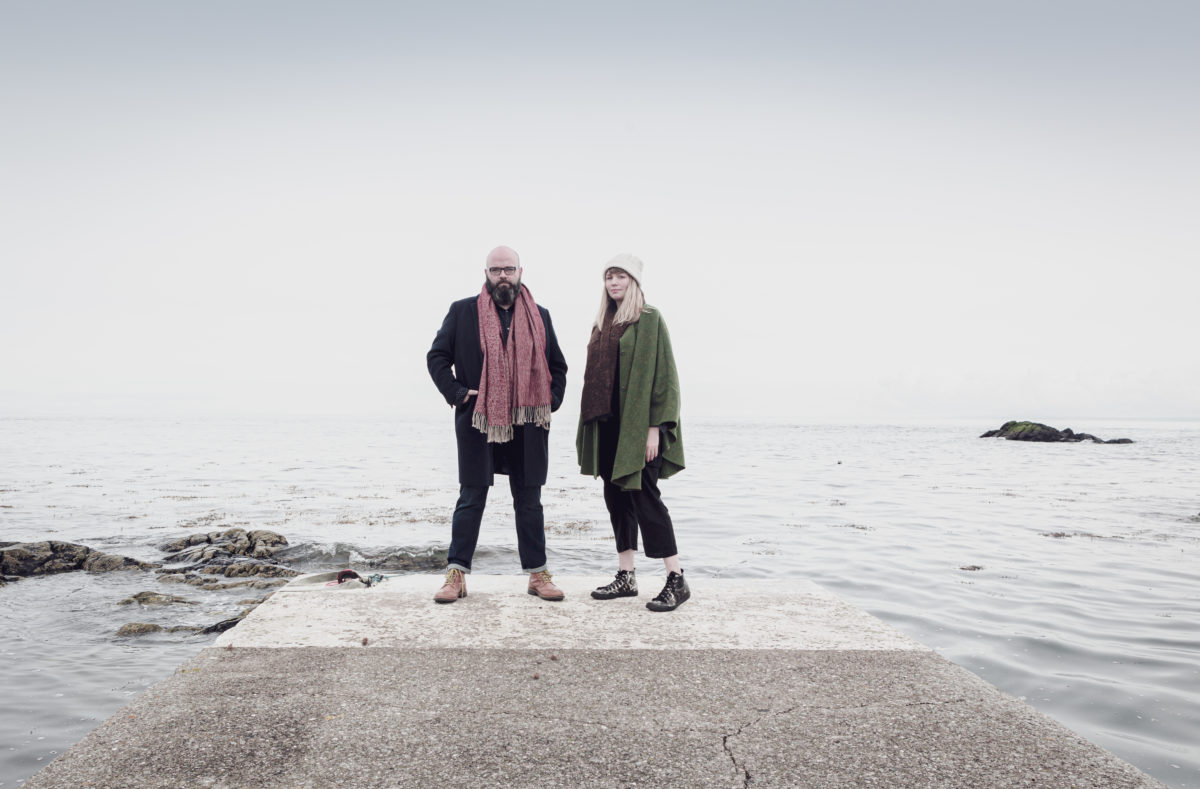 The Darkling Air had signed off their first chapter with a concert in Bangor Castle on April 20, 2017. Rachel had been heavily pregnant and every breath had been an effort but still it was a great, swirling adieu. Songs like 'Storyline' had impacted on the public and on radio playlists. They had been discovered by the BBC, and the Canadian Broadcasting Corporation and on a memorable evening in December 2016 they had performed in the modest confines of No Alibis Bookshop, Belfast, before Van Morrison and Jimmy Page. After the gig Jimmy walked away with a few copies of 'Untamed & Beloved' in his pocket.
Ancestor came together gradually. Music had a recuperative effect as they returned to Michael's studio. "I had to get back in and do this," says Rachel. "With new motherhood, you can quickly lose some of your identity. It took me a while to know what to say. I was worried it was going to sound forced. "So we took our time."
The title track is an observation from the nearby graveyard at Bangor Abbey. Rachel had noticed the visitors from all over the globe, searching out the headstones of their relatives. She heard the stories and thought about the survival of bloodlines. In her dual role as a musician and a visual artist she was also working on a historical project called Bangor's Ghost, and so this found expression with The Darkling Air also.
Another new song, 'Octogenarian Mermaid' came out of swimming in the Lough. Rachel would often immerse herself in the sea before a recording session and was "buzzing" from the healing waters and open conversations with the kindred souls she'd meet bobbing about between the waves. "It's an incredibly effective therapy". It became a life goal – to do this always.
So the record became a holistic search and a fitting return. It had elegance and dark tones, an undimmed love song plus the signature mark of Arco String Quartet. "We tried not to stop ourselves from moving past the first record," Michael reckons. "You don't ask, does that sound like The Darkling Air? 'You have to ask, what does The Darkling Air want to sound like?"
Rachel is an illustrator and she creates arts events. She's ensuring that the new live shows will include bespoke visuals and film projections. Michael is a composer/orchestral arranger and music producer who has worked with the likes of Foy Vance, Duke Special and Luke Sital-Singh.
The duo had met when Michael arranged for Rachel's previous band, Farriers. And so The Darkling Air became the project that has compelled and inspired them both. "It became the most natural songwriting partnership I'd ever had," says Rachel. Her cohort agrees. "You have to have a bit of faith that what you do, people will have some interest in, but most importantly, that we have some interest in. These songs come from the truth of the heart and will one day be a little musical heirloom in the bloodline. "I was happy to get back to this – the moment when we became invested again."