Arts & Business NI Open Applications for Cultural Sustainability Programme, Blueprint
Arts & Business NI have opened applications for their ground-breaking cultural sustainability programme Blueprint. Blueprint is a pioneering 5-year financial growth programme which will enable small to medium-sized cultural organisations in Northern Ireland to take a more long-term approach to their income generation.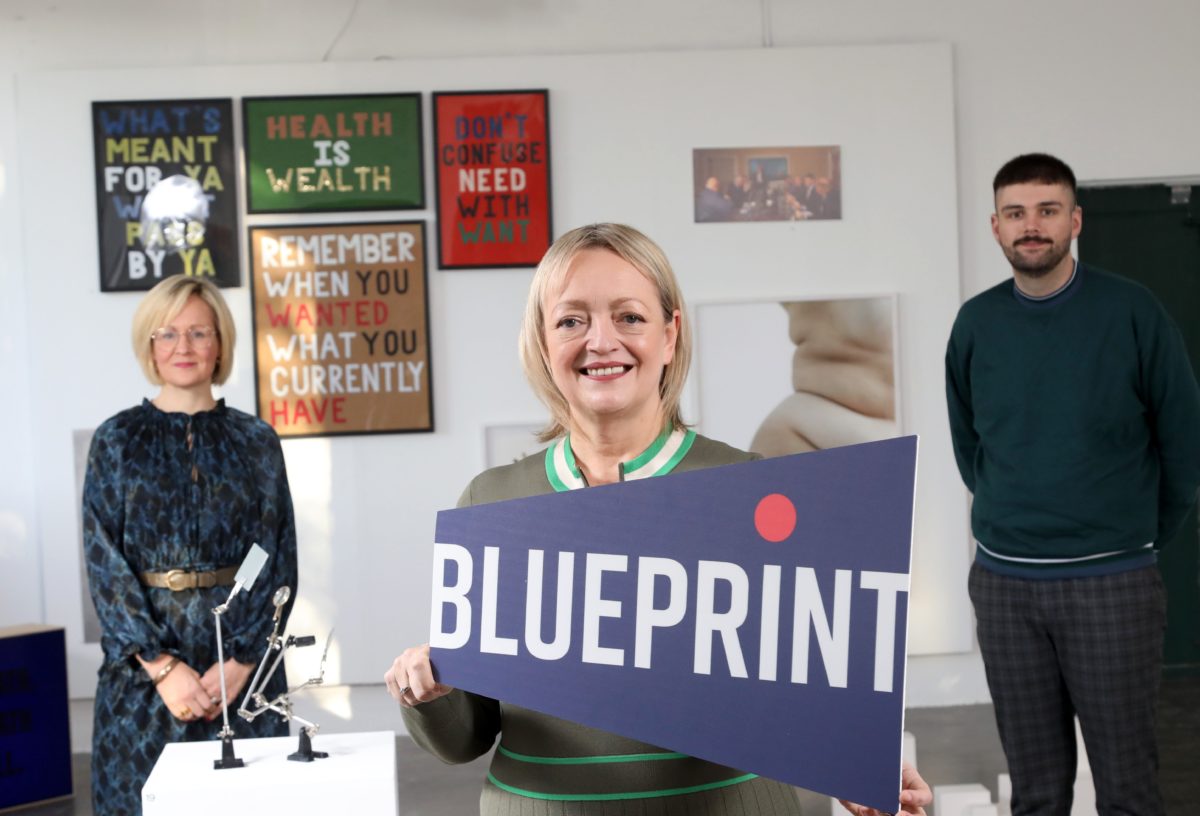 Blueprint is informed by five years of research and development led by the team at Arts & Business NI (A&BNI) and is supported by a cohort of public and private funders. These funders will work together across the period of the programme to share strategies on taking a longer-term approach to building long-term financial strength within the arts and cultural sector.
The public and private funders supporting Blueprint include two UK foundations: Paul Hamlyn Foundation and Esmée Fairbairn Foundation, alongside The National Lottery Community Fund NI, Department for Communities NI, Arts Council Northern Ireland and Belfast City Council.
The programme will span a five-year period, supporting and developing a cluster of arts organisations to identify opportunities for income growth. In addition to training and mentoring, the programme will include a range of investment grants that will help organisations free up capacity, test new income generation ideas and invest in and incentivise financial growth.
Communities Minister, Deirdre Hargey said: "The product of the creativity and hard work of people across the arts and culture has a critical role in the quality of life here but it also has the potential to make a significant contribution to the creation of a stronger economy that will benefit us all. Blueprint is a truly innovative approach to providing the skills and foundations that will support and sustain the practical expression to the talent and creativity we know is here in abundance and I look forward to seeing the lessons we can draw from it."
Speaking about the programme, Mary Nagele, CEO of Arts & Business NI said: "At Arts & Business NI we are excited by the potential of this Blueprint programme that will seek to encourage investment in long-term growth and allow its participants to find their unique route to greater financial security, and ultimately, more artistic freedom."
Thanking funders the chair of A&B NI Martin Bradley MBE said: "We are so grateful to all the funders who made this possible, shared our vision and supported us along the way. Having such a cohort of public and private funders invested in the programme can help us affect real transformational change."
Blueprint will pilot a new approach to 'capitalising' organisations, with funders and arts organisations working together to building long-term financial strength. Blueprint has attracted the support of a broad collection of public and private funders: this widespread support demonstrates the collective belief in the ambition of the programme, and the transformational change that it seeks to achieve for the arts and cultural sector in NI.
Funders of the programme spoke about why they were excited by Blueprint:
Kate Beggs, The National Lottery Community Fund's Northern Ireland Director, commented: "We were delighted to fund Blueprint through the first strategic grant from Dormant Accounts Fund NI. This is a real game changer to not only help the long-term sustainability of individual arts and cultural organisations, but create transformational change and build long-term financial strength in the NI cultural sector.
"From the beginning we could see how the project was a close fit with what we wanted to achieve through the strategic element of Dormant Accounts – enabling collaboration and developing new approaches to sustainability across the sector.
"We are excited to see Blueprint open for applications and know the learning around collaboration between funders will be instrumental in strengthening the voluntary the community sector overall."
Régis Cochefert, Director of Grants and Programmes at Paul Hamlyn Foundation said: "Paul Hamlyn Foundation has been supporting arts and cultural organisations – and the wider voluntary sector – in Northern Ireland for decades and we care very much about supporting these local communities, both in urban and rural settings. We have supported Blueprint since its inception, as we could see the change that this capacity-building programme could bring about across Northern Ireland. The last 18 months has demonstrated how vital this key investment has become. We are delighted that so many other bodies joined our ranks as funders of this important initiative and we look forward to seeing the impact of the programme over time."
Representatives from Esmée Fairbairn Foundation commented:"We are delighted to be part of Blueprint and to help support the aspirations of the programme to bring transformational change. Northern Ireland's rich and complex network of arts organisations is vital for nurturing, showing and sustaining the many talented artists who make their home here. We would like to thank Arts & Business NI and their partners for their vision and drive in making this ambitious strategic programme a reality."
Roisin McDonough, Chief Executive of the Arts Council of Northern Ireland, said: "Blueprint represents a strategically important step in strengthening the long-term sustainability of Northern Ireland's arts and cultural sector. It forms part of the Arts Council's own five-year development plan for future proofing the arts and, with one of our key clients, Arts & Business Northern Ireland, in the driving seat, alongside the cohort of partners and investors that they have brought on board, we have every confidence that Blueprint will deliver significant and lasting benefits to the local arts."
Lord Mayor of Belfast, Councillor Kate Nicholl stated: "If we want a truly culturally vibrant city – then we need to help our arts organisations become more financially secure. And that's why we've invested in supporting Arts & Business to deliver this pioneering programme, Blueprint.
"As we continue on our post-Covid journey, the ambition set out in our cultural strategy is taking on an even greater significance, with the arts playing a vital key role in the city's recovery and well and truly setting the scene for our upcoming ambitious plans to celebrate culture in the city."
Arts organisations interested in hearing more about the programme can watch the Blueprint Launch Film here.
More details on the Blueprint programme and how to apply are available on the Arts & Business NI website here: www.artsandbusinessni.org.uk/apply-for-blueprint
The deadline for applications is 12 noon on Wednesday 1 December 2021.
Should an applicant have any queries about their application they should contact Brona Whittaker, Head of Arts 028 9073 5155 | b.whittaker@artsandbusinessni.org.uk
__
ENDS
Notes to Editors
Arts & Business NI (A&BNI) sparks new partnerships between businesses and arts organisations across Northern Ireland.
A&BNI provides fundraising and governance support for arts organisations members across Northern Ireland and facilitates creative engagement and training opportunities for our business members.
Arts & Business Northern Ireland's principal funder is the Arts Council of Northern Ireland.
Arts & Business NI is a registered charity – Registered Charity Number is XT31864